Tailor-Made Safari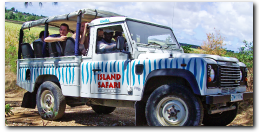 Tour highlights:
Experience Barbados at your own pace! This tailor made safari allows you or us to tailor make a safari tour JUST for you.
Let our experienced and professional Tour Guide Drivers show you the best of Barbados, based on your special requests.
Ask about our add-on lunch and other great packages!
Includes:
Round trip transportation from your hotel or villa
Special Note:
Please note that pricing of ALL charter tours is dependent on duration & departure time. To secure the advertised prices above, customers are required to go with our tour time grids for departure.